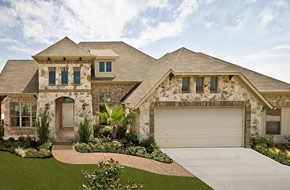 Finding the perfect family home is easier said than done. There are many things to consider over and above the floorplan that you should take into account. Here are four critical things in your next home:
1. Central Location- The length of your daily commute, whether to work or pleasure, can have a significant impact on your quality of life. Communities located with easy access to major highways have a distinct advantage.  In Texas, the new George W. Bush Turnpike has enabled workers in Plano, Dallas and Ft. Worth to consider new locations, which often mean new schools, shopping and entertainment opportunities.
2. Proximity to Great Schools- The quality of schools in the area not only impact your child's education, but ensure the long-term resale value of  your investment. Check the accessibility and rating of schools before buying a home. Living in a good school district helps your child's future, preserve the value of your home, and ensure quicker resale in the future. Woodcreek, a popular community near Rockwall and Lake Ray Hubbard just outside of Dallas, holds an even more unique distinction. Families enjoy two top-rated elementary schools built within the private residential neighborhood. Top rated middle and high schools are also available in the area.
3. Room to Grow- Today's families are multi-dimensional.  Whether they are becoming parents, taking care of aging parents, or welcoming home college graduates, space requirements can have an impact on your home. Building flexibility into the design of your home is important. Evaluate the balance between indoor space and outdoor landscape and prioritize bonus spaces that can be easily converted from den or office to an additional bedroom if needed.
4. Entertainment and Activities- When you buy a home, you also buy the surrounding community.  Where you live often matters most to how you live. Make sure you're in an area with activities that interest the entire family — such as boating, shopping, sports, arts and culture mean more opportunities to relax, explore, and stay healthy together.
Ask the residents of the communities you're considering their thoughts on the neighborhood and surrounding area. Our sample community, Woodcreek, enjoys a 97% resident recommendation rate. Woodcreek's one and two-story homes offer three, four and five bedrooms designs by some of the area's top builders, starting from the $170's. For more information on the available homes, click here.