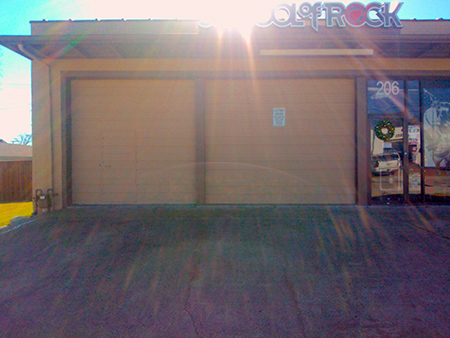 Did You Hear What's In Store For The School Of Rock's Garage Doors?
Rockwall artist, Joetta Currie is working in between cold fronts and rain to complete a mural that can provide a look at "what used to be" in Rockwall.  Currie was hired by School of Rock co-owner, Stuart Smith to paint images on the large garage doors at their Rockwall business. The building was formerly home to the Rockwall Fire Station. Smith wanted Currie to re create the look of the fire station by having the vintage fire trucks painted as if they were in place and ready to be of service.
Currie gathered information from Rockwall Fire Chief, Mark Poindexter and online resources to create the scene as accurately as possible.
"I think it's important that I am historically correct," says Currie. "Chief Poindexter has provided not only valuable reference images, but a lot of interesting stories from the past. Locals have stopped by and advised me about the pattern of the tire tread and the look of the siren; things that I may not be able to see on an old photo. It's discovering and re-creating the details that make it enjoyable for me."
Currie, a Rockwall resident since 1992, has been involved in promoting community arts for over two decades. She is the owner of ArtVentures Studio, LLC, and founding director of Rockwall County Alliance for the Arts and previously served on the City's Cultural Arts Commission and Art in Public Places Program. She also volunteers at Rockwall Community Playhouse, painting sets for performances.
"I'm happy that the City is amenable to bringing art out in the open," says Joetta. "They have always supported cultural activities and the importance of our history. The mural will be a nod to both."
It's a work in progress now. The basic shell of engine # 3 is up on the left door and Engine #1, or "Old Granny" as the firemen referred to her, is in the process of getting "dressed" as Currie puts it. Gold leaf stripes, lettering, lights and ladders will soon be added. "Old Granny" is currently being restored by the Texas Fire Museum.
Residents of Woodcreek in the Fate/Rockwall area will be able to enjoy the mural once finished. Woodcreek's friendly neighborhoods of beautiful single-family homes combined with two-top rated elementary schools, make Woodcreek the ideal place to call home. With more than 1,500 families already living here, Woodcreek is certified 97% Resident Recommended. For more information on a Woodcreek home, click here.
Find the original article here.