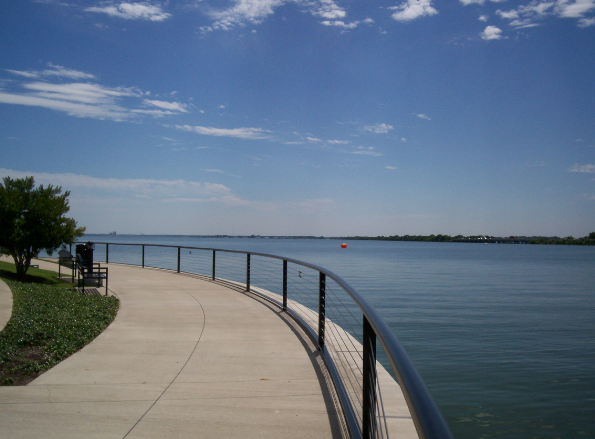 The largest lake in the Dallas/Fort Worth area, Lake Ray Hubbard is 22,745 acres and is a short 15 to 20-minute drive from Woodcreek. As we power our way through the colder months, Spring is just around the corner and this prime location offers the perfect spot to enjoy the few beautiful, warm days of spring in Texas.
Maximize your time at this beautiful Texas lake with 5 of the very best things to do at Lake Ray Hubbard.
Lounge Around Lakeside Park
Located on the Rowlett shoreline, Lakeside Park is a well-kept area that offers plenty to do right on Lake Ray Hubbard. The park provides the usual features such as a playground for children, barbecue grills, and plenty of picnic tables. But it also features unique amenities such as a trail along the lake shoreline, a well-kept volleyball court, and a fishing pier over the lake.
Enjoy Rockwall Harbor
Rockwall Harbor offers a huge variety of things to do. From great dining spots, to exciting entertainment, and delightful lake experiences, this spot is truly a one stop destination for everything you could desire on Lake Ray Hubbard. Be sure to check out the summer concert series and snap an Instagram worthy picture at the lighthouse.
Wander Windsurf Bay Park
A 42-acre park to the west of Lake Ray Hubbard, Windsurf Bay Park provides a spacious area to enjoy the lake shore. The park extends out into the lake with water on both sides, and offers two beaches for swimming in the lake. The park not only provides a playground, but also offers a pavilion nearby that will accommodate around 25 people, which is perfect for the parent who wants to escape the sun but still keep an eye on their kids.
Get Athletic
The Rockwall Golf and Athletic Club features views of Lake Ray Hubbard from the clubhouse and a challenging 18-hole golf course which offers plenty of diversity in terrain with creeks, ponds, and bays. The club also has well-kept tennis courts and a swim area that features a shallow play area for children.
Take a Boat Ride
To really experience Lake Ray Hubbard, take a boat ride out on the water! Buy tickets to a public event on Harbor Lights and bring your own picnic to enjoy on the water. Or book Little Toot for a private cruise for your next special event. Enjoy spectacular views of the lake and relax while cruising the water with this delightful adventure on the lake.
Lake Ray Hubbard offers plenty of family fun as well as romantic date nights. With so much to do and see, you'll enjoy hours of fun at the lake.
Lucky for residents of Woodcreek, Lake Ray Hubbard is just minutes away. During the time homeowners spend at Woodcreek, they will see why it is certified 97% Resident Recommended. The friendly neighborhoods of beautiful single-family homes combined with two-top rated elementary schools, make Woodcreek the ideal place to call home. To learn more about the community of Woodcreek in Fate, Texas click here.