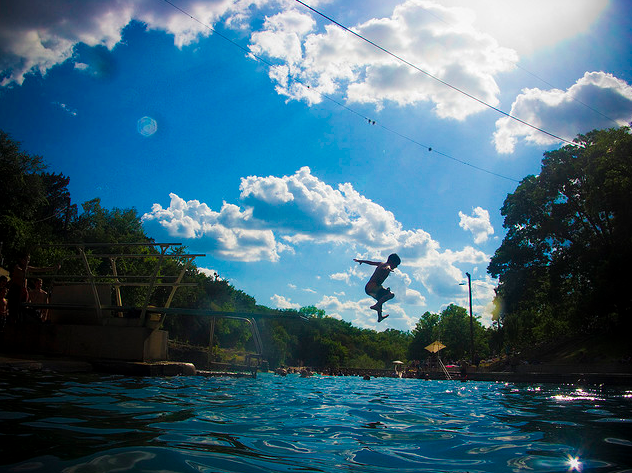 While most people don't immediately associate swimming and fishing activities when thinking of life in Dallas or Austin, Texas, it's nice to know that there really is water, water everywhere. If you are looking at residing or visiting this area during the next few hot summer months, we suggest cooling off in at least one of these hotspots.
Lake Ray Hubbard – Rockwall, Texas
Lake Ray Hubbard is one of the largest lakes in north Texas, spanning 22,000 acres. Frequented by locals and visitors, this fresh water reservoir is great for fishing, skiing, relaxing and recreational boating. There are numerous beaches as well as hiking and biking trails surrounding its perimeter. And if that isn't enough, one of the most popular attractions at the lake is Rockwall Harbor. This waterfront entertainment center offers amazing dining, shopping, live music, movies, walkways along the harbor and the perfect place to watch beautiful sunsets.
Krause Springs – Spicewood, Texas
Owned by the Krause family, Krause Springs has been around for 50 years and is open year-round for swimming and camping. Tucked away in the hill country of Texas, Krause Springs is approximately 30 miles from Austin and offers both primitive and RV camping sites. There is also a spring-fed pool on the upper level and many visitors love floating under the waterfall on a relaxing afternoon.
Barton Springs – Austin, Texas
Said to have healing waters, the frigid spring-fed waters at Barton Springs lie within the 358 acres of Zilker Park. The pool itself is approximately three acres and draws people from all walks of life. Legend has it that Robert Redford learned to swim at the pool when he was visiting Austin with family. A great place for family fun, adjacent to the pool bathhouse is Splash!, an educational exhibit where attendees can learn about the history and biology of the Springs and the Edwards Aquifer that feeds into it.
Devil's Waterhole – Burnet, Texas
Located in Inks Lake State Park, Devil's Waterhole is the primary attraction with most visitors exciting to jump off the cliff into the water. There are three different levels that one can jump from ranging from approximately 7 to 25 feet high. In addition to cliff jumping, patrons also enjoy fishing, hiking, and camping.
Whether you are currently located near Austin or Dallas, we hope you stay cool this summer in Texas. And if you're interested in taking the plunge and living in the area, we invite you to take a peek at the new residences available at Woodcreek in Fate, Texas, just up the road from Lake Ray Hubbard.
Click to view the original article here.